You can migrate the whole file from Excel to MySQL or MS SQL/SQL Azure easily. As an alternative, it is possible to specify data ranges from MS Excel spreadsheet using automatic data selector for export data partially.
Please choose desired export destination below to export Excel spreadsheets.
MS Excel

MS Excel to MySQL MS Excel to MS SQL MS Excel to SQL Azure
Excel cross database conversion software runs on Windows 8 / 7 / Vista / XP / 2000 / NT.
Using Integrated Data Selector makes it easy to choose the needed data range from Excel spreadsheets. Auto-Selection feature automatically recognizes Excel data ranges as "ready to be exported" tables.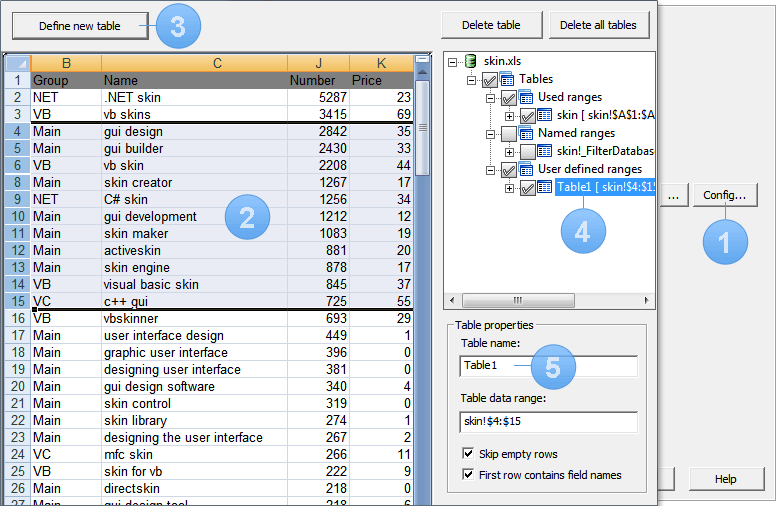 1 - Configure database structure
2 - Select sheets and columns
3 - Specify new tables or arrange existing ones
4 - See all created tables in the right top panel
5 - Change table properties
Microsoft Excel is a spreadsheet application where data is represented a grid of cells arranged in numbered rows and letter-named columns. If a spreadsheet becomes large and generally is used as data storage it is the right time to think about exporting Excel data to databases like MySQL or MS SQL.
Using our Excel migration tools you can easily Export your Excel spreadsheets to the popular database engines. As well, importing data to Excel from MySQL, MS SQL, Azure SQL is not a problem.